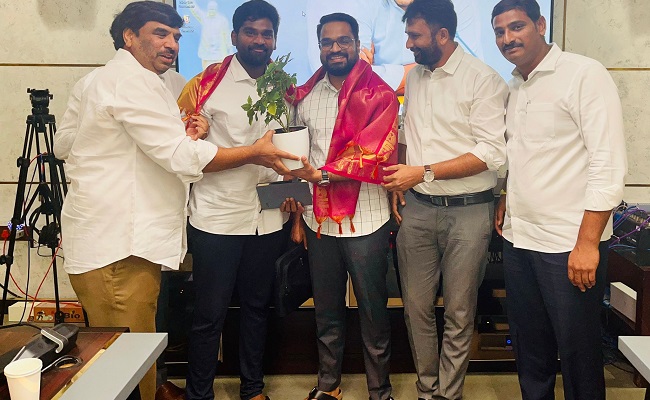 YSRC's social media wing is getting a makeover!
Social media has become an integral part of any political party's campaign strategy.
In addition to having individual accounts on the social media of their respective party leaders, each political party has a separate social media wing, not only to counter the opposition, but also to propagate its own ethos.
The YSR Congress party led by Chief Minister YS Jagan Mohan Reddy maintained a strong social media network, which played a major role in the party's victory in the 2019 parliamentary elections.
Operated under the Indian Political Action Committee (I-PAC) promoted by popular political strategist Prashant Kishor, who was hired by the YSRC, this branch of social media has somehow not been very effective after the coming to power of the party.
Until now, the social media wing of the YSRC was overseen by the party's general secretary and Rajya Sabha member, V Vijay Sai Reddy. Now, with state assembly elections just a year and a half away, Jagan has decided to do a complete overhaul of that wing to make it more efficient.
According to sources, Jagan held a crucial meeting on Monday where he announced a total overhaul of the social media wing as suggested by I-PAC coordinator Rishi Raj Singh and his team.
The meeting was attended by State Government Advisor Sajjala Ramakrishna Reddy and other coordinators from the social media wing of YSRC.
Jagan would have explained the strategies to be adopted by the party in social networks, from the state level to the district level.
Sources said that Jagan decided to strip Sai Reddy of responsibility for social media monitoring and hand the same over to S Bhargava Reddy, who happens to be Sajjala's son.
In turn, Bhargava Reddy will be assisted by two advisers – CV Reddy and Arjun Reddy, who is said to be a close relative of Jagan.
Also, Bhargava Reddy has four officials – Devender Reddy, Challa Madhusudhan Reddy, Shiv Shankar Reddy and one other person. Under this supervision, there will be up to 200 social media activists.
Their responsibility is not only to push government agendas to the people, but to effectively counter opposition criticism at all levels. They would receive extensive training in this regard, so they would work in coordination with the I-PAC.
It is learned that Jagan decided that a system would be established to prepare the required content on these two aspects and send it regularly to the social media wing, for them to use in social media advertising.
Political watchers, however, say that despite such a strong social media establishment, there has been no proper oversight of the system.
"Nearly 90% of the people named in this social media wing have no connection to social media platforms," ​​said one observer who has followed the party's campaign closely.
Second, when there is such a large establishment of more than 200 people, there is no adequate control mechanism.
"There's no way to check who's posting what out of those 200 people. Those on the sidelines have little time to monitor all of that stuff," he said.
Third, there is already a digital media wing within the government that deals with the dissemination of government plans and programs. As such, it is only a duplication of work.
"In fact, many social media activists who post pro-Jagan and anti-TDP messages on social media have nothing to do with the party wing. They are independent Jagan supporters, residing overseas or elsewhere in the state. They do a better job than the real social media wing of the party," the Observer said.
It seems like the I-PAC is messing up too much on the party's social media, instead of focusing on strategizing how to bring the party back to power for a second time.