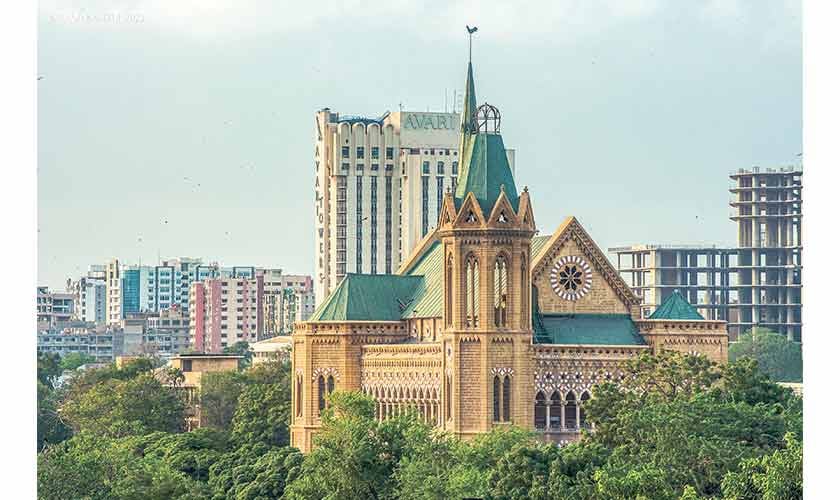 Colonial heritage | Shehr | thenews.com.pk
The driveways and fences being considered by the Sindh government to 'protect' the vast recreational tracts of Frere Hall from the people of Karachi have recently drawn serious criticism. From dusk to dawn, large groups flocked to the site for entertainment.
Arif Hussain, poet and publisher, says he doesn't care if Brother Hall is torn down. "I used to take idle walks there. If it is closed or starts charging visitors, I will keep peace with our collective fate which rests in the hands of fanciful officials," he says.
Hussain draws his poetic inspiration from nature. However, he keeps his job to himself, saying it's for his own contentment and peace of mind. "We, the unhappy masses, cannot do anything. We are stuck in a colonial-type security state that does not care if its actions do not find favor with the people," he laments.
Oonib Azam, a journalist, often visits Frere's, especially when he encounters writer's block. "When I'm running out of ideas and feeling down, I sit there to clear my head. One day I drove to the park and was surprised when I was asked to pay a parking ticket," says Azam.
For 150 years, Brother Hall has gone without fencing. The initiative of the city administration to apply various charges and build walls came out of nowhere and was seen as an attempt to separate those who can afford to pay from those who cannot. It was presented as an attempt to create a safer atmosphere, prevent theft and ward off vandals and those who harass women. The arrangement would also raise funds for the maintenance of the park.
Earlier last month, architect Marvi Mazhar took to social media platforms to announce that gated structures had already been built around Frere Hall.
This prompted civil society to act. Later, the High Court of Sindh ordered the immediate demolition of the gates. He also served a show cause notice on city administrator Murtaza Wahab for carrying out work on a public heritage site. The High Court called it an "intolerable" violation of citizens' rights.
"They have millions of rupees to spend building doors that would selectively block people from entering a space that has entertained them for decades. Yet they struggle to allocate the funds to the right expenses," says Mazhar. Sunday news.
In its lawsuit against these closed structures, Mazhar argued that the construction breached Rule 8(1) of the Sindh Cultural Heritage Property (Identification, Registration and Protection) Rules 2017 introduced by the Cultural Heritage Act 1994. of Sindh (preservation).
The lawyer for the municipal administration argued that the measures were aimed at beautifying the park. Mazhar says the arrangement was clearly intended to privatize and gentrify a site that everyone in town can turn to.
"Look at Jane Jacobs' studies of parks," suggests Mazhar, adding that we should look to parts of the world where serious thought has been given to the upkeep of public spaces and parks.
"They have millions of rupees to spend building gates that would selectively keep people out of a space that has entertained them for decades, but they are struggling to allocate funds for the right spending."
"Too much is expected of parks," writes Jacobs in his critical work on the state of urban planning and design in mid-twentieth-century America. She argues that superficial expectations lead to disappointment. In his book The Death and Life of America's Big Cities, Jacobs denounces the science fiction "nonsense" that parks are the lungs of the city. Such false aspirations, she says, defeat the true purpose of these spaces and reduce them to an aesthetic for people who command more wealth and control.
She says parks need people to accept and honor them; it's not the other way around. People can "hold back use and doom parks to rejection and failure," she adds.
Bearing in mind Jacobs' understanding of parks that reflect the general behavior of the society to which they belong and whose success depends on the people who visit them or not, it can be pointed out that few parks are as successful as Frere Lobby.
Architect and urban planner Arif Hasan writes that better monitoring of the park and judicious use of anti-vandalism measures can, for the most part, solve the problems raised by the city government. It also suggests that ubiquitous hawkers and vendors could be registered by the park authority so that their activities can be monitored and their profits taxed. "The gentrification of the park and the reservation of space for a café will mean the death of the subsistence of a large number of vendors and peddlers," he says.
In response to government concerns about budget cuts for park maintenance, Mazhar says, "The office of the general manager of parks is a big living room. It hits you like an extension of an elite club. If they can spend a fortune on its upkeep, why can't they do the same for the park? »
"Government officials arbitrarily come up with absurd ideas like outsourcing park management through public-private partnerships. Sitting in their lavish offices, they want to decide the fate of the public and say the best way to preserve public property is to fence it off," she says.
"If you ask me, the fundamental problem is fencing off properties and forcing people to ask permission. And for what, really? If we stop resisting today, they will conveniently turn Frere Hall into an extension of the Sindh Club which is right behind it," Mazhar warns. If that happens, she says, the general public will only have access to it for a few hours.
Mazhar is not the only one to fear this outcome. Haris Latif, a student, explains that student unions use the place to organize study groups. "It's centrally located to all the important places and it's easily accessible," he says. It recounts important events that occur at Frere Hall. Closing it, he says, will discourage them. "As a first step, they will allow these events to take place. Once the leadership changes and more patriarchal and conservative minds take office, will they still allow Aurat March? asks Latif.
"The fence and fortification of Frere Hall will be a disaster for short entertainment content creators, library visitors, student union mobilizers, joggers and those who use the space as a means of communication. The site will not only lose its identity, but will also be reduced to a space for the privileged and their gatherings. They will despise the presence of a stranger," says Latif.
"When it comes to issues such as vandalism, inspiration should be taken from thriving parks in the UK and other parts of the world. Install CCTV cameras to protect furniture and prevent vandalism, employ sufficient staff to oversee maintenance and mark off areas for children. Trust people to know what is important and don't scapegoat them for your own failure to restore and rehabilitate a heritage site," says Mazhar .
---
The author is a journalist covering human rights and social issues. He can be reached on Twitter at @mhunainameen