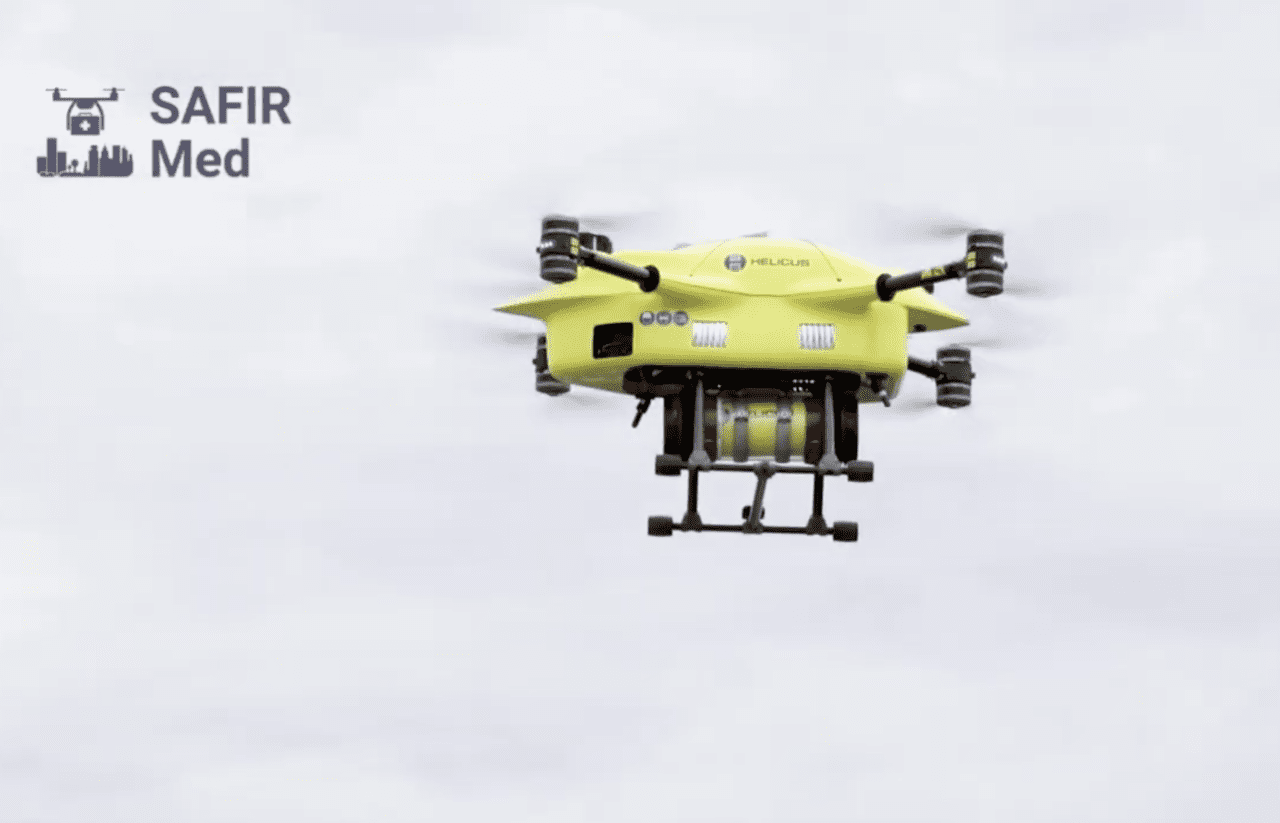 SESAR JU leads a medical drone delivery project in Belgium
The Belgian Civil Aviation Authority recently authorized a drone flight beyond visual line of sight (BVLOS), the first of its kind, in Antwerp. This was the first BVLOS drone flight over a populated area operating under the European Union Aviation Safety Agency's new regulations for unmanned aircraft and compliant with the assessment specific operational risks (SORA).
The flight took place in June as part of the SAFIR-Med project to explore the feasibility of using drones to perform urgent medical deliveries. The team, including drone operator Helicus, used an X-8 multicopter, developed by SABCA, for the flight.
The SAFIR-Med project is one of the many projects carried out and financed by the SESAR Joint Undertaking—a public-private partnership that manages research and innovation related to air traffic management (ATM) in the European Union. The joint venture, or JU, is part of the SESAR (Single European Sky ATM Research) collaborative project.
In 2017, the SESAR Joint Undertaking drafted a U-Space Activation Master Plan, a framework to facilitate the safe integration of routine drone operations into existing airspace. The European Union Aviation Safety Agency (EASA) committee approved a set of U-space regulations in February 2021, and the European Commission adopted the regulations in April.
The regulatory framework for U-space includes requirements for ATM and ANSPs, as well as rules ensuring that manned aircraft operating alongside unmanned aircraft are electronically visible. The U-space regulations will be applicable from January 26, 2023.
Robin Garrity, Senior External Relations Manager of SESAR 3 JU, said there will be no immediate increase in the number of commercial drone activities once these U-space regulations come into effect.
"The regulations set out the rules for states to create, pretty much from scratch, a whole new ecosystem to support routine commercial drone operations, and there are many pieces that need to be in place. Only when a state has all the key elements in place can routine operations begin," Garrity wrote in a statement emailed to International Avionics. U-space regulations define the baseline that each state must work from when implementing an operational U-space environment.
At the end of June, the SESAR 3 Joint Undertaking announced three new projects under the Digital sky demonstrators which are used to test solutions for U-space and urban air mobility (UAM). These include U-ELCOME, coordinated by Eurocontrol to facilitate market uptake of U-space services; BURDI, coordinated by the Belgian ANSP skeyes, a project that will demonstrate the management of the operations of unmanned aircraft systems (UAS) in different environments; and EALU-AER, coordinated by Future Mobility Campus Ireland to demonstrate U-space architecture operations and ATM integration leveraging drone traffic management technology solutions.
Digital Sky Demonstrator projects are designed specifically to support states as they transition from demonstrations to deployments of a U-space environment, Garrity explained. "Until it becomes common for drone operators to be able to use U-space services, the demand for such services will remain somewhat reduced," he noted. "As operations are increasingly enabled, the number of drone operators using the services is expected to increase and that, in turn, should make this new ecosystem commercially viable."
The SESAR 3 Joint Undertaking works closely with standardization and regulatory bodies. The ICAO UAS Advisory Group is a global standards body for UAS and ATM operations in which the SESAR Joint Undertaking participates. The Joint Undertaking also participates in the European Space Standardization Coordination Group (EUSCG) and certain EUROCAE working groups. Garrity added that they work closely with EASA, especially when running demonstration projects to ensure regulatory compliance and maintain safety.
"All SESAR research projects, not just those dealing with U-space, should provide information and recommendations for standardization and regulation," he explained. "All the results of our research and demonstration projects are immediately integrated into the activities of EASA and EUSCG/EUROCAE so that they can be integrated into new standards and regulations."
"The close partnership between SESAR 3 JU, SESAR project members, EASA and standards organizations is vital and fundamental to the successful realization of the U space vision," Garrity wrote. He also underscored the importance of ensuring that business operations are conducted safely, especially since creating a whole new aviation ecosystem is such an ambitious undertaking.
Another SESAR-led project, called AURA, is a two-year program focused on U-space solutions. The first objective is to identify communication requirements with ATM and validate U-space services. Second, the AURA team will define an ATM-U-space concept of operations for drone operations alongside manned aircraft.
A representative from the AURA project said Avionics in an emailed statement that project flight plans are allowed by default. However, manual clearance of flight plans is required for "very high-risk environments at the airport and surrounding areas," the rep explained. "We manage it with flight plan clearances by ATM/geofences requiring clearance (even applying initial concepts of dynamic airspace reconfiguration)."
AURA includes Honeywell Aerospace, ENAIRE, Airbus, EUROCONTROL, Leonardo, Thales, NATS and Indra, among several other partners.