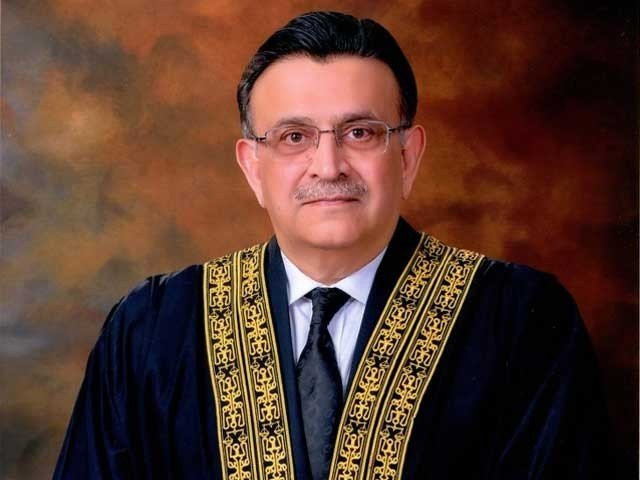 Not bothered by recent campaigns against judges, says CJP Bandial
ISLAMABAD:

Chief Justice of Pakistan (CJP) Umar Ata Bandial observed on Monday that recent campaigns against judges did not bother them as they consider the protection and preservation of the Constitution to be their duty, adding that the court operates 24 hours out of 24 in this regard.
The CJP also expressed the hope that the judgments of the Supreme Court will be respected.
Judge Bandial's remarks came as a five-judge SC bench resumed the hearing on the presidential remand regarding the interpretation and scope of Article 63(A), filed by Pakistan's Tehreek-e- Insaf (PTI) against the defections of dissident legislators.
"We expect political leaders to have the courage to defend the judgement," the chief justice said, questioning the value of the Court's intervention in political crises "if 5,000 to 10,000 people end up coming together and start criticizing their judgments and not accepting them".
"Why should we announce judgments? asked Judge Bandial. The Chief Justice went on to add that judges are the guardians of the Constitution.
"I ask political parties to defend the parliamentary form of the system," the CJP said.
Lily Section 63-A does not mention lifetime disqualification, says SC
A member of the bench, Judge Jamal Khan Mandokhail questioned why the court should intervene if parliament did not mention lifetime disqualification in the Constitution due to lawmakers defecting.
"No mention of disqualification"
In hearing the case on March 28, the SC observed that Section 63-A of the Constitution did not mention lifetime disqualification as it only referred to temporary disqualification (de-seating) for violations. .
During the presidential dismissal hearing, former attorney general Khalid Jawed Khan had argued that defection was no ordinary political activity, adding that the Constitution referred to the term of an assembly, not legislators.
According to the AGP, the membership of the legislators ends in the event of dissolution of the assembly.
He said the purpose of Section 63-A will be achieved with a lifetime disqualification and that the law will not achieve its purpose of removing lawmakers before the end of the assembly's term. The then-government lawyer said that in the event of a declaration, section 62(1)(f) will apply to the dissenting legislator.
To this, Judge Jamal Khan Mandokhail asked if the disagreement meant dissent according to the AGP, to which Khan replied in the negative.
Judge Mandokhail said Rule 63-A referred to removal, not disqualification. He added that there was no need for further discussion when there was no mention of disqualification.