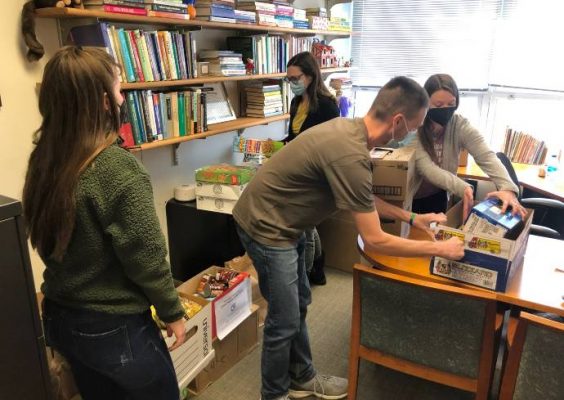 School of Social Work Giving Campaign to Fight Hunger in Syracuse
March is National Social Work Month and this year's theme is "Now is the Time for Social Work".
For the Falk College School of Social Work, now is the time to help support the fight against hunger in the Syracuse community.
In recognition of Social Work Month, undergraduate and graduate students from the School of Social Work are hosting a fundraiser to help the Huntington Family Centers Pantry in downtown Syracuse. Huntington Family Centers Inc. is a multi-service, neighborhood agency that has been serving youth, families and seniors in the community for over 100 years.
"MSW and BSSW students enthusiastically organized this fundraiser to further the mission of social work: to serve others," says Jennifer Cornish Genovese, assistant professor in the School of Social Work and program director of graduate studies in social work. "Our students understand the importance of human connections and enhance the dignity and worth of others through this giving campaign."
Food and other essential items will be collected throughout March from donation boxes throughout the Falk College complex, or they can be sent directly to the School of Social Work via its Amazon Wishlist ( the full list of items is below).
"As a future social worker and human being, I believe it is our duty to do what we can to ensure that the basic needs of members of our community are met," says Kiara Marie Lee, graduate student in social work. "Food should be a human right, but so many people in this country don't always have access to it.
"If everyone who is aware of this donation campaign donated a single food item or household item to Huntington Family Centers, I can't imagine the kind of impact it would have," adds Lee. "A one pound box of spaghetti that costs just over a dollar could potentially feed a family of four. Something that seems small could make all the difference to someone else.
Lee and fellow graduate student Nathalie Barr were, as Genovese puts it, the "driving forces" behind the School of Social Work's clothing drive last December for We Rise Above the Streets, a Syracuse-based organization that s strives to break the cycle of homelessness. Lee and Barr asked if they could organize a similar campaign for the spring to coincide with National Social Work Month, and they chose the Huntington Family Centers because they wanted to address food insecurity in Syracuse. .
"As someone studying to be a social worker, it's important to help people when they're in need," Barr says. "Sometimes as a society we take basic necessities for granted, but there are a lot of people in our local community who are struggling.
"This giving campaign is a simple task that we can do to help with some of the hardships that individuals may encounter," adds Barr. "I'm honored to be a part of this experience and grateful to be able to give back to others."
According to its website, Huntington Family Centers is "deeply rooted in the tradition of 'settlement homes' and dedicated to the dignity and self-esteem of all individuals and committed to improving the lives of families and children for the future of our community.We achieve this through diverse, year-round programming designed to strengthen individuals and families in a safe and caring environment.
Genovese says students will pick up and bag items and deliver them to Huntington Family Centers throughout March.
"I'm proud of Kiara, Nathalie and all of our students, we couldn't have done this without them! said Genovese. "We are asking the campus community to please join us in this important campaign as we celebrate Social Work Month and serve our community by supporting the Huntington Family Centers food pantry."
The School of Social Work collects the following items:
Food
Sugar
Plain flour
Spices, Salt, Pepper
Tea/coffee bags
canned milk
Gluten-free and non-perishable foods/snacks
canned rice
canned stuffing
quinoa
Boxed cake/brownie mix
Icing
spaghetti sauce
Pasta
Fruit juice (100%)
Soupe
Tuna
Macaroni and Cheese
Cereal
groats
pancake batter
Pancake Syrup
Jelly
Peanut Butter
Toiletries
Toothpaste/Toothbrush
Soap
Shampoo
Deodorant
Feminine hygiene products
Essential
Baby wipes
Dishwasher detergent
Reusable Grocery Bags
Paper products (plates, paper towels, toilet paper)
plastic utensils
can openers