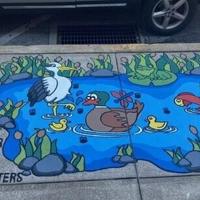 FLOW OF CONSCIOUSNESS: Street 2 Creek | Flow of Consciousness
Editor's Note: This is a column on the area's watersheds by Blyden Potts and guest columnists to publicize the area's tributaries and the efforts of area volunteers to keep them clean.
Most communities have storm sewers. You will find them in almost any street with curbs. Storm sewers remove excess water from precipitation or snowmelt from streets and sidewalks. Runoff occurs because traditional pavement is impermeable: there is no way for water to seep through it into the ground. Rainwater collectors are therefore necessary to evacuate the water from the street.
But where does the water go? If you guessed that it is going to a processing plant, you would generally be wrong.
Unlike sanitary sewers which carry wastewater to a treatment plant, storm sewers generally flow directly into a local waterway. Anything that goes down the storm sewer with this water, whether it's petrochemicals on the sidewalk, grass clippings on the sidewalk, trash, or whatever has been left on the street, is found in the stream as runoff pollution. For this reason, it is important to minimize waste and pollutants on the street, and not to discharge or pour anything other than natural, unaltered water into storm sewers.
To raise awareness of this issue and encourage people to think about what they might leave on the street, in many communities you will find a post on the curbs near storm sewers. The message can take various forms. It may say "No Dumping" or "Drains to Streams", or other words to that effect. It can take the form of a sticker, ceramic tile, metal disc, or oval, or it can be painted directly onto the sidewalk.
York has a particularly beautiful and grandiose way of getting the message out. The City of York, the Master Stewards of the York County Watershed, the Watershed Alliance of York and the Lower Susquehanna Riverkeeper Association have teamed up to host an annual art competition, aptly named "Street 2 Creek". The Street 2 Creek project creates sidewalk paintings near storm sewers. The size and vibrancy of the art attracts the attention of passers-by, and the competition aspect attracts media and publicity.
Last year marked the fourth year of the event. You can view the artwork and learn more about the artists on the project website: https://www.street2creek.org/
Shippensburg has its own unique marker for storm sewers: ceramic tiles produced by Ben Culbertson, an artist, faculty member in the Department of Art and Design at the University of Shippensburg and a long-time member of MSWA. A group of SASD students, mostly eighth graders, provided the impetus for the project. In 2009, volunteers initially installed around 300 storm sewer tiles (https://www.shipnc.com/news/article_20fd52b9-c268-50e5-99f2-a4bb512d9f3b.html). A few years later, in 2015, another group of volunteers, mostly students from the University of Shippensburg, replaced dozens of broken and missing tiles along King Street. Broken or missing tiles on most other streets have never been replaced, and many of the replaced tiles on King Street are in need of replacement again. That's why Ben is now designing a new set of more durable storm sewer tiles. He hopes to have them ready later this year.
Storm drain markers alert the public to the problem. They don't reduce runoff or redirect it to a stream. Other strategies exist that do. Grass pavers and similar methods have long been used in low traffic areas. In recent years, water permeable pavements have been developed which can withstand heavy traffic.
By allowing water to seep into the soil, these methods reduce the amount of runoff. Edging cuts with gutters and French drains, or similar methods, also remove excess water, but put it in the ground instead of a stream. In the future, these strategies could largely replace traditional storm sewers. Until they do, it's important to keep reminding people that storm sewers are "Street 2 Creek".