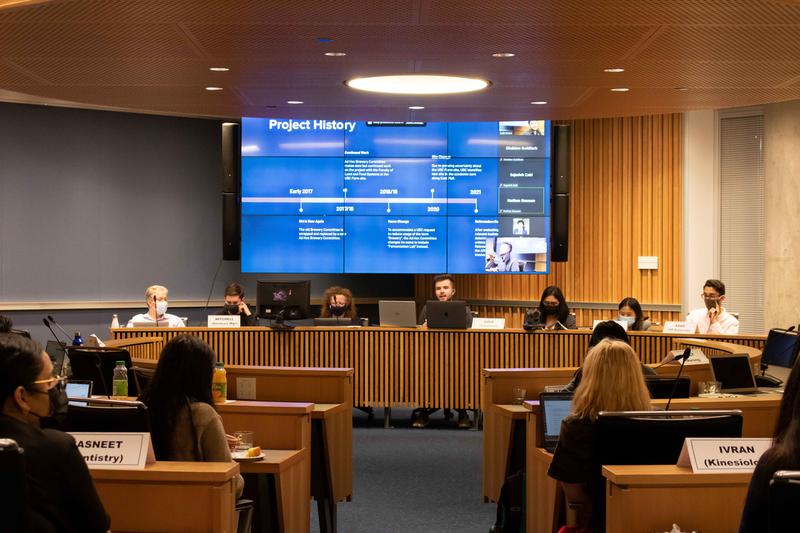 AMS reopens the conversation strategically at September 15 meeting
At the first Mandate Board meeting, the advisers had a lengthy discussion about developing an AMS strategic plan and immunization requirements within the company and the Nest.
Try, try, try again (to develop a strategic plan)
President Cole Evans, along with former Graduate Student Society President Nicolas Romualdi, presented a new strategy for developing AMS's strategic plan, after two decades of failed attempts to create one.
"It's really important to the organization that we have … guidance documents, not necessarily to direct operations, but as a tool for operations to use to ensure that we have a unified approach as that organization of what our values ​​are, what our strategies are and the services we provide to UBC students, "said Evans.
Most advisers expressed support for the plan, and many said it would be helpful if new advisers and AMS staff really understood what the company is. Artistic advisor Kamil Kanji asked if the council knew why the latest plans had failed.
Evans said the AMS had not done a "post mortem" on past plans, but he believed that was because most of the attempts had been developed by the president's office, even though the office didn't lacked the capacity to develop such an important project internally.
Governing Council representative Max Holmes differed on this point, arguing that earlier plans had failed because AMS started working on it mid-year, but stopped working on it when the elections were held. took place. He added that there was no "built-in accountability" to follow a strategic plan with rotation of executives.
"At the end of the day, I think that's the question people need to ask themselves tonight, is this the only thing you want to do, is this the big project that the whole Council wants to commit to, not just the executive, "Holmes said.
Romualdi, who would be the person who would lead the development of the plan, said the goal was to make a plan flexible and useful for future leaders and boards.
After a long discussion, he said they would look at what has gone wrong in the past in creating a strategic plan and bring an update to the Council shortly.
AMS received legal advice not to force vaccines on employees
During a discussion on vaccinations, Councilor Katherine Feng asked if AMS has considered mandatory COVID-19 vaccinations for its own employees, given its advocacy for UBC to declare a vaccination mandate on the campus.
Evans said that according to legal counsel, the company is unable to require vaccinations from its existing employees. He added that they thought it might be redundant after UBC's tenure.
However, UBC technically does not have a vaccine mandate, just rapid testing requirements to be put in place for the unvaccinated.
Graduate Student Society representative Julia Burnham asked if all AMS staff would be covered by UBC's mandate, as AMS has staff who are not affiliated with the university. Burnham also asked why legal counsel advised AMS against implementing its own vaccine mandate, given that other employers have done so.
Evans said AMS needs to see if UBC also extends its own mandate to visitors to campus. Chief Executive Keith Hester said AMS could technically mandate its own employees to get vaccinated, but could face legal action.
Holmes questioned the consistency of AMS advocacy – why did AMS advocate for UBC to implement a vaccination mandate, if the company was aware of a legal opinion saying that would it be illegal to do so?
"It seems like such a disconnect and just massive hypocrisy in the middle of it, which some people miss. You advocate for the university to require vaccines for everyone, but then you say you can't do that as an employer, "Holmes said.
Vice President for Academic and University Affairs Eshana Bhangu acknowledged Holmes' points.
"We also want to be 100% upfront with you, so we will take all of this into consideration and report back to the Council next time."