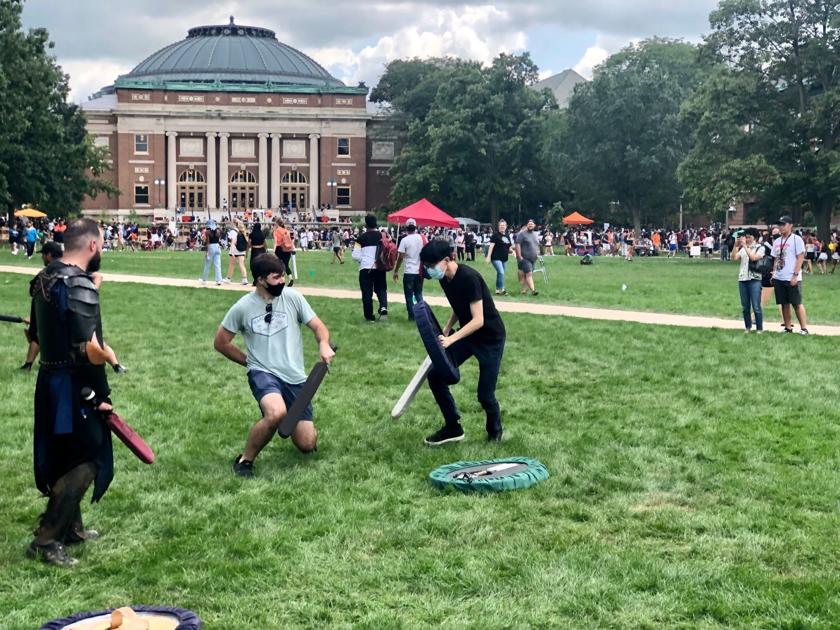 After Loud Quad Day, UI Student Groups Host Semester In Person | University-illinois
URBANA – How does a University of Illinois student organization create team camaraderie when many of its members live in California?
Try team pizza nights, where everyone bakes a pie at home. Or grab a plate of the "Spicy Ramen Challenge" live on Zoom.
These are the solutions that Hack4Impact UI students have found during the COVID-19 months – solutions they may never have to come up with again.
A return to almost complete in-person activities at IU means business for campus extracurricular activities. Thousands of incoming UI students were able to connect with representatives of around 500 registered student organizations during Quad Day on a sweltering Sunday afternoon.
The guest list has been narrowed down to only student-led groups this year, and the hubbub has even spread to the South Quad, but the classic Sunday rush has always appeared on the event's 50th anniversary.
More than 700 students signed up for Hack4Impact's interest form on Sunday amid an "overwhelming" influx of people, including Chancellor Robert Jones.
Some more digitally-focused student groups will carry on new traditions from the most intense months of the pandemic.
"What we started towards the end of the spring semester were small group activities, where we grouped people together based on different interests," said Hack4Impact co-director Tiffany Duong. "Pho nights, mocktails, game nights could cover a variety of different interests."
Using the Slack messaging platform, members created "channels" for other topics, where fans of everything from fashion to skateboarding could connect.
Meanwhile, Hack4Impact could pursue its goal of creating 'software for good', partnering remotely with nonprofits to create digital projects that solve the unmet needs of people nearby and at home. outside the campus community.
"Many of our members viewed our organization as an anchor point during the pandemic," said Co-Director Yousef Ahmed.
"Especially with the freshmen who joined last year, the majority of people they knew were from Hack4Impact," added Duong. "It has become a really strong community. "
Other registered student organizations, like the UI Wildlife Society, were not so lucky. For a club based on in-person activities, outdoor field events and studies have been phased out for all of 2020, said group chairman Em Alexander.
In the spring, they managed to organize a big in-person event: setting up a huge net during the migration season and identifying a variety of birds that have flown there, tracking their age, body fat, species name and several other qualifiers.
Like other animal-centric club events, the group obtained a scientific permit for the activities and trained all members prior to the event.
For a registered student organization that typically operates with around 35 people, there will be plenty to do for the 500 students who have signed up for the group's mailing list.
"I know this usually translates to a lot less students, but it's way more than we've ever had enrollments in previous years," Alexander said.
After next week's meeting, the Wildlife Society will have a Kickapoo survey for mussels on the schedule, followed by a bat survey in October and numerous visits during the fall bird migration season.
Many of the students at the head of these organizations have spent much of their semesters in the shadow of the pandemic.
"As a senior, I am a little anxious but excited. I'm glad I didn't have to spend my last year completely isolated on the computer, "said Alexander.
A bouncy, sweaty Quad Day refreshed a few memories of the campus they knew as subclasses.
"COVID hit right at the start of my second semester. I haven't had much experience at U of I as a student in person yet, "said Ahmed. "Meeting people naturally on campus is fun, it's a different energy to be able to see all these people walking around."