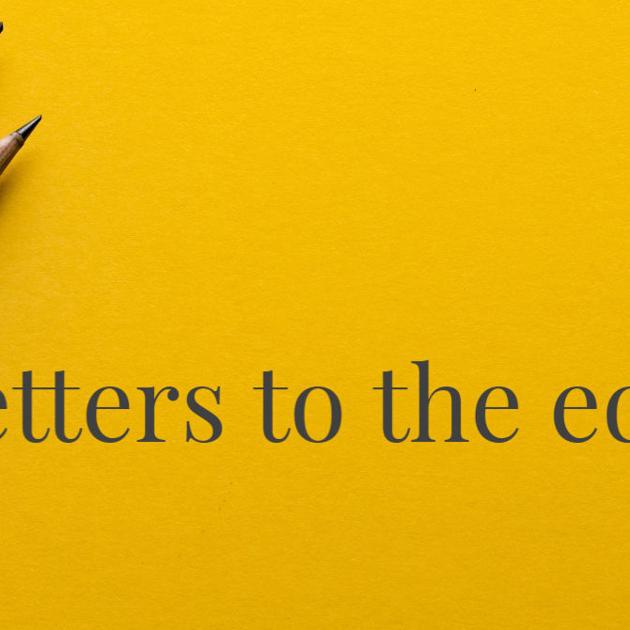 Letters to the Editor, May 30, 2021 | Notice
Media
During my 40 year career, I have worked as a writer and editor in newspapers and magazines and also as a public relations practitioner. I know the difference.
While AP, ABC, CBS, NBC, CNN and Associated Press et al. want to be public relations for Joe Biden, the Democratic National Committee, and the radical left, they should at least have the professional courtesy to stop pretending to be news agencies and start reimagining themselves with cute PR names.
Media organizations are meant to be watchdogs, not companion dogs.
Growth
My former boss advised his senior managers: "We finish the spinach on our plate before we eat our dessert." He meant that we would do the best job possible by performing essential functions with maximum efficiency; if the budget remained there would be opportunities for the "right things to do".
It is unfortunate that Boise City Council member Holli Woodings is "still in mourning" over the proposed $ 104 million Moshe Safdie Library suspension and the need to divert $ 25 million in public funds for more needs. pressing.
A nice downtown branch library can still be owned. But next time around, the vision must show greater fiscal prudence, a more realistic vision, less environmental impact and better oversight of citizens through a public vote.
With soaring post-pandemic steel, concrete and timber costs, the nearly 70% of Boise voters approving our 2019 citizens' initiative did this city a huge favor, dissuading it from going head-to-head. lowered in such an expensive endeavor.
Please do not erect statues in their honor. Spend the money to solve the problems of growing up in this new city you invented for us.
David Klinger, Boise, on behalf of Boise Working Together
Parties
It is time for the press to stop calling Idaho's "radical new right" and the nation "conservative." There is nothing in this group that looks like anything from the Conservative Party that my long-deceased mother and stepfather could relate to. There is no sense of "conservation" left in this ramification brought about by the election of # 45 and its administration … in particular by honoring our Constitution and Article II section 1 of the sacred document.
Bernie Sanders has hit the nail on the head pretty well with this published statement … "Either the Republican Party can be the party of the big lie, of racism, of division – or it can be a conservative party that believes in democracy and rule. of law. It cannot be both.
I hope that in the years to come, the "real conservatives" will mobilize and denounce the emergence of the radical right as well as the agenda of division and destruction put forward by the previous administration. We need a voice of reason and cooperation to keep our democracy alive and moving forward.
Leadership
On May 16, that newspaper featured an article about the Boise Police Department and their need for more officers and the recruiting challenges they face. Apparently, few people want to be police officers. In the wake of George Floyd, several cities decided to dissolve their local police services. Police services are bad actors or are racist.
This discourages people from standing up to "protect and serve" in our police services. Why would they do it? Would you do it if you were insulted?
But perhaps the worst was when Lisa Sanchez, Pro-Tem President of Boise City Council, posted on Facebook on June 5, 2020, that she had a woman of color who wouldn't take a ride with our service. Boise police. out of fear for his personal safety. She posted this. Do your own fact check.
We should remember his words and his attitude in the upcoming city council election… and reject it.
Our city needs thoughtful leadership.
Cheating
The May 27 edition reported that one of our lawmakers questioned whether Boise State University's recent investigation into the campus "indoctrination" allegations could be independent, complete and impartial. Will he be equally concerned about the independence, completeness and impartiality of the Lieutenant Governor's Campus Indoctrination Task Force? Someone once said, what is good for the goose is good for the eyes. Will our legislator let off steam and avoid this question? Hopefully not. If he does, I will shout "poultry game".
Turmoil
Are you a city or county official struggling to fund essential services in the wake of Idaho's new property tax bill? Are you in the construction business and wondering how you will survive a possible "pause" or moratorium on construction fueled by the new law? Are you a resident living in mortal fear of the tax bill you will receive in November? All this angst and turmoil could have been avoided. It is the result of a flawed bill sponsored by Mike Moyle that was led astray by the legislature in the penultimate days of the session under suspended rules. There was a better way to reduce property taxes. Representative Bruce Skaug sponsored, along with 48 cosponsors, a bill that would have provided a landlord exemption of about $ 152,000 without any of the nonsense affecting local governments. Representative Steven Harris, chairman of the Income and Taxation Committee, never authorized consideration of Skaug's bill. If you believe in holding politicians accountable, Mike Moyle and Steven Harris are two good names to remember in 2022.
Investigation
Now we can all be quiet. Boise State hired a law firm to conduct a cursory investigation of himself and surprisingly found no indoctrination of students with Marxist "critical race theory" and other indoctrinations from the radical left. that divide! Who would have guessed? Nothing like asking 30 students about a student body of 25,400, including 22,000 undergraduates, who are due to take the UF 200 political, social and environmental indoctrination course. have they been selected? Who were they? Were they progressive leftists with CRT? The results of this so-called survey are questionable to say the least. I suggest you go online and review the syllabus for the UF 200 course. You can clearly see what this compulsory course teaches: the progressive / Marxist indoctrination of the worldview on topics such as race, gender. , climate, class, economy, morality, patriotism, etc. How about an independent investigation by a credible source?
Contributions
Commentary from Ronald Harriman. It is time to limit political contributions to all in national elections to citizens with valid social security numbers. More power for our citizens.
The Idaho Press does not guarantee factual accuracy and does not endorse the opinions expressed in letters to the editor. If you would like to respond to something you read here, please send a letter to idahopress.com/opinion