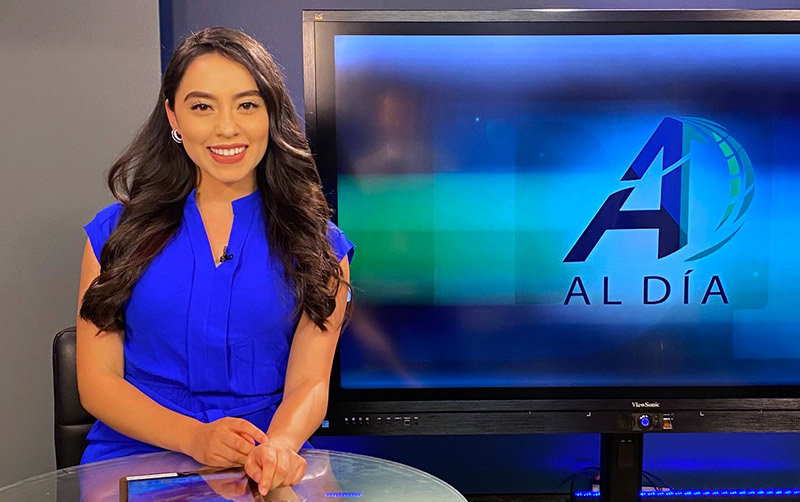 First generation graduate students with distinction and pride
When Kimberly Cruz graduates from Cal State Fullerton, she will be the first in her family to graduate from college – with honors.
Cruz, a communications major studying audiovisual journalism, graduated magna cum laude with a 3.8 GPA. This is not only a feat for herself, but also for her parents who immigrated to the United States at a young age to escape the civil war in El Salvador.
"I am proud to be Latina, bilingual and bicultural – and to have obtained my bachelor's degree," she said.
Cruz is one of 40 Abrego Future Scholars in the Class of 2021, a CSUF program that supports first-generation students from historically under-represented backgrounds with scholarships and other services and resources to help them achieve their higher education goals. These seniors were recently celebrated by the Center for Scholars for their accomplishments.
At the virtual event, 17 Nicholas Graduate Academic Fellows, a partnership with Nicholas Academic Centers of Santa Ana, and nine graduate Sun Family Scholars, a partnership with the Sun Family Foundation, were also honored.
For a full list of graduates from these programs, visit the centre's website or watch the Center for Scholars Elders Celebration video:
Abrego Future Scholars change lives
Cruz tells how the Abrego Future Scholar program was a life-changing experience during his university career. She plans to participate in the celebration of the start of the march on stage on June 14 in person at the university.
How did the Abrego Future Scholars empower you?
I owe all of my success to the CSUF to Abrego Future Scholars. This program pushed me beyond my comfort zone. Before starting my first semester, I made friends and had a sense of belonging through the summer course of the program. I cannot put into words the importance of the program to me; mentoring made me who I am today. As a first generation student I struggled but the staff and faculty were always ready to help. The center is like my family.
Why did you want to go to college?
I love education and knew I wanted something bigger for myself. The idea of ​​university was instilled in me at a very young age by my parents. Throughout high school, I was laughed at by other students because I kept constantly busy joining clubs, playing sports, and studying. At CSUF, university has been my home for four years and will remain so for the rest of my life. I graduated with no student debt and gained incredible experiences that will guide me as I prepare for the next chapter of my life.
What activities did you get involved in during your university career?
During my four years at CSUF, I have been very involved on campus. I am president of the student section of Latin American journalists of CSUF and I am part of the award-winning Spanish newscast Al Día. I have been active in campus organizations such as CSUF's Hermanas Unidas and served as a campus tour guide and resident advisor. I am a member of the Lambda Pi Eta Honor Society and the Society of Professional Journalists, and host of Titan TV. I am also founding vice-president of the Abrego Future Scholars Association.
What are some of the challenges you faced in college?
One challenge that I still face is my mental health. I had a difficult childhood and it wasn't until my second year of college that I knew what I was going through: anxiety and depression. During this pandemic, the situation worsened as we were isolated for a year and unable to see our friends and family. Online learning was also much more difficult than in person. But I have my family and a boyfriend who supports me every step of the way.
What's the next step after graduation?
My career goal is to become a news anchor. I want to serve as a role model for other first generation Latinx students who want to get into this industry. We need more diversity in the editorial staff. After graduation, I plan to take some time to focus on my mental health and heal. Despite what I was going through, I pushed and succeeded. I graduated with distinction during a pandemic – and I couldn't be more proud of myself.