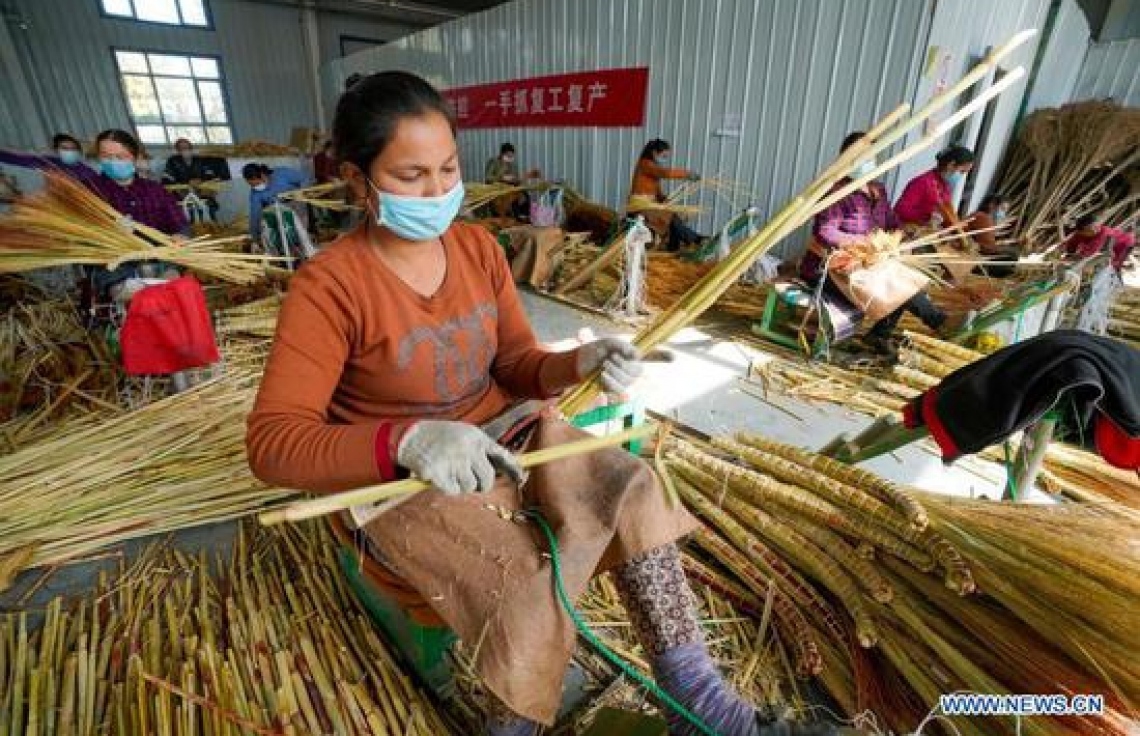 Keys to Successful Poverty Reduction in China – A People-Centered Philosophy for Common Prosperity
Aygul Osmanjan is a 25-year-old country girl from the Kyrgyz Autonomous Prefecture of Kizilsu, in the Xinjiang Uyghur Autonomous Region. She suffered from polio as a child and was classified as second degree disabled. Her family was heavily in debt to care for her and their lives were tough.
In 2012, the 18th National Congress of the Communist Party of China ushered in China's New Era Poverty Reduction Campaign, and Aygul's family life changed thereafter. In 2014, her family was identified as one of the first groups of poor households registered, and the local government began providing them with a monthly allowance. For the first time, her family hasn't had to worry about what to eat and what to wear since then.
In the same year, as targeted poverty reduction work was carried out in her hometown, her family applied for interest-free loans to raise livestock and joined the Quality Improvement and Income Improvement Project. agriculture and fruit forestry.
Thanks to the government subsidized housing policy, her family moved from a mud house to a new spacious and bright house. She also enrolled in an artisanal weaving training program run by the local government and the company. She quickly mastered the techniques of weaving and got her first salary.
In Aygul's mind, opening a clothing store has been her dream since childhood. With the help of her village's first secretary, she secured a start-up fund and successfully launched her own clothing store in the local bazaar in her hometown.
It was the anti-poverty campaign and help from government and business that enabled Aygul, the strong-willed disabled girl, to realize her aspiration to lead a happy life.
In the Xinjiang Uygur Autonomous Region, 3.089 million people from 77,900 poor households, 3,666 poverty-stricken villages and 32 poverty-stricken counties have all been lifted out of poverty. Compulsory education for children from poor families, basic medical care for the poor population and medical care for serious illnesses are fully guaranteed.
The relocation of people experiencing poverty has been completed. The working and living conditions of the population affected by poverty have improved considerably. The sense of self-fulfillment, happiness and security of people has been greatly improved for the inhabitants of all ethnic groups in Xinjiang.
They are all the epitome of how the Chinese Communist Party united and led the Chinese people of all ethnic groups to conquer the fortress of deep poverty, to win decisive battles against poverty, and to create a better life for it. people. As President Xi Jinping has said, no ethnic group should be left behind, whether in the journey towards a moderately prosperous society in all respects, poverty reduction or modernization.
President Xi Jinping has repeatedly stressed that "the people's aspiration for a better life is our goal."
The Chinese Communist Party adheres to the philosophy of people-centered development and steadfastly pursues common prosperity. Eradicating poverty, improving livelihoods and common prosperity are the primary goals of the Chinese Communist Party to wholeheartedly serve the people, and also the primary responsibility of the CCP and the Chinese government.
By making public investment play the main and preponderant role, China would prefer to discard a few large projects and give priority to financing the fight against poverty. Since the beginning of the fight against poverty, China has issued more than 710 billion RMB in small loans, 668.8 billion RMB in re-loans and 9,200 billion RMB in financial loans targeted for reduction of poverty.
Thanks to these interest-free loans and support funds, Aygul's family started their aquaculture and managed their clothing store.
As President Xi Jinping said, poverty reduction is not the finish line, but the starting point of new life and new enterprise.
After the historic achievements in poverty reduction, the Communist Party of China has put forward the main task of rural revitalization, placing greater importance on promoting the common prosperity of the Chinese people and making more substantial progress in promoting the common prosperity of all Chinese.